Dark & Stormy er en af de få drinks, der er beskyttet af et decideret varemærke – den må, ifølge romproducenten, der ejer rettighederne til navnet, kun laves med Gosling's Black Seal. Og producenten fra Bermuda tøver ikke med sagsanlæg, hvis rettighederne bliver krænket!
Bermuda ligger et godt stykke ude i Atlanterhavet nord for Caribien og er vel mest kendt for den berygtede Bermuda-trekant, hvor skibe og fly på mystisk vis forsvinder sporløst. Men Bermuda er altså også stedet, hvor Gosling laver deres rom og ikke mindst der, hvor de blander den med lokal ginger beer til en Dark & Stormy. Hvornår nogen fandt på, at blande de to ingredienser vides ikke præcist, men mon ikke de engelske søfolk, som var blandt de første kolonister, efter at øen kom under den britiske krone i 1700-tallet har en del af æren? Navnet siges i hvert fald at stamme fra en sømand, som påstod at farven lignede "en sky, som kun en tåbe eller en død mand ville sejle hen imod…"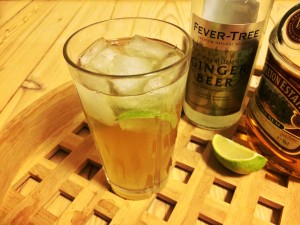 Jeg har desværre ikke pt. en flaske Gosling's Black Seal stående, men måtte ty til et jamaicansk alternativ, Appleton V/X, som dog er en glimrende substitut. Og så prøvede jeg (bare for sjov…) også at lave den med en El Dorado 12 års. Ikke en "rigtig" Dark & Stormy, må jeg hellere understrege (hvis en advokat læser med…), men i begge tilfælde ligeså forfriskende. Appleton V/X er en rigtig fin allround rom, som kan bruges til de fleste rom-cocktails, og den lagrede El Dorado gav en virkelig god dybde og et godt modspil til den krydrede ginger beer.
For det skal være ginger beer og ikke ginger ale, som er langt sødere (og fladere). Rigtig ginger beer er krydret og frisk, med en tydelig smag af ingefær og en stærk, men ikke brændende, eftersmag. Som en blæsende caribisk strand kunne man sige, hvis man var i det poetiske hjørne… Kan efterhånden fås i velassorterede supermarkeder.
Opskrift, Dark & Stormy:
6 cl. mørk rom (Gosling's Black Seal)
10 cl. ginger beer
Serveres i on the rocks i highball-glas, pyntet med en skive lime.
Comments
comments