Gin. Måske den type spiritus, som flest elsker at hade – men samtidig en spiritus, som anvendes i utrolig mange cocktail- og drinksopskrifter, både gamle og nye. Hvordan hænger det sammen?
Tjah, det er der nok flere forklaringer på, men først og fremmest er gin en spiritus med en relativt kraftig og meget distinkt smag af – især – enebær. Og for nogle er netop denne enebær- (eller gran-agtige) smag nok til at sætte gin-flasken hen i hjørnet. Der er dog to grunde til alligevel at hive gin frem, når det er cocktailtid:
1) Gin skal aldrig drikkes rent. I modsætning til de fleste andre typer spiritus, er der ingen, der med fuldt overlæg og nydelse vil finde på at drikke gin rent, dvs. uden at blande det op med andet. Rom, cognac, eau-de-vie, whiskey, vodka, tequila, ja selv likører kan drikkes, og bliver drukket, som de er. Og det er fint. Men altså ikke gin. Gin skal blandes. Kun få har smagsløg som Winston Churchill, som gerne drak sine Martini'er helt uden vermouth!
Jeg kan ikke være sikker, men et godt gæt er i øvrigt, at vodka netop kom ind i en Martini i stedet for gin, da man efterhånden havde reduceret vermouth-indholdet så meget (og fjernet bitterne), at gin-smagen trådte alt for kraftigt frem.
Så selvom du ikke kan lide gin, så prøv en cocktail, hvor gin'en får lov at spille andenviolin – en Aviation, en Clover Club eller en Ramos Gin Fizz, hvis det skal være meget avanceret. Og vent så med Martini'erne til en anden dag…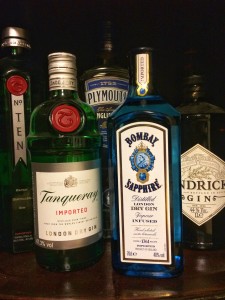 2) Gin er mange ting. Gin er nok den mest alsidige spiritustype, jeg kender. Bevares, der er mange slags rom, og der er ikke mindst mange slags whisk(e)y. Men med gin er det ikke kun de forskellige undertyper, der afgør valget, men meget ofte de enkelte producenter og deres unikke krydderisammensætning. Og netop i cocktails kan den rigtige eller den forkerte gin gøre hele forskellen. En Martini lavet med Tanqueray er helt anderledes end en lavet med Bombay Sapphire eller en lavet med Gordon's. En Filby Cocktail bør derimod altid laves med Bombay Sapphire, som går superbt sammen med Amaretto'en. Plymouth gin, som er lidt sødere og mere frugtrig end London Dry, kan bruges i mange sammenhænge (og er min egen go-to gin, når et specifikt mærke ikke er påkrævet). Og Old Tom gin, en ældre og sødere type, er det helt rigtige til en original Tom Collins.
Og der er i de senere år kommet rigtig, rigtig mange nye mærker på markedet, mest kendt vel Hendrick's, Geranium, og Sipsmith, som hver har deres claim to fame og kan bruges til forskellige drinks. Den ny-klassiske Cucumber Collins med Hendrick's er et godt eksempel.
Så hvis du ikke allerede er vild med gin, så prøv at huske ovenstående – og det kan være, du bliver overbevist…
Comments
comments