Som hjemme-bartender og cocktailentusiast (a.k.a. -nørd…) kan man nogle gange tage sig selv i at bruge alt for meget tid på at læse om cocktails og drinks alle mulige mærkelige steder – fra obskure cocktailbøger fra slutningen af af 1800-tallet til næsten lige så obskure cocktailblogs fra bartendere fra hele verden. Men imellem alt dette, og opskrifter på drinks man ville ønske, man aldrig havde set (og lavet og smagt…), gemmer der sig nogle gange nogle virkelige perler. Og et af disse steder er en blog skrevet af en bartender fra Portland, USA, som hedder Jeffrey Morgenthaler (www.jeffreymorgenthaler.com – tjek den ud!). Sidst jeg browsede omkring derinde, fandt jeg hans opskrift på ingefær-sirup, som jeg straks besluttede mig for at lave ved først givne lejlighed – for efterfølgende at forsøge at lave en cocktail med den.
Sirupper er en af cocktailverdenens grundingredienser. De bringer sødme, smag og en dybde i den endelige drink, som ikke kan opnås på andre måder. Fra den simpleste 1:1-sukkersirup (1 del sukker og 1 del vand koges op til sukkeret er opløst…) til sirupper med tilsat smag – mange drinks kan ganske enkelt ikke laves uden. Og dem man laver selv, er altså bare bedre end dem man kan købe, sådan er det nu engang.
Jeg har lavet sukkersiruppper (i massevis…) og bærsirupper før, men ikke ingefærsirup. Og Hr. Morgenthaler havde en god måde at lave den på, som skulle bevare den intense ingefærsmag og samtidig være nem at gå til. Så jeg kastede mig ud i det:
Opskrift, hjemmelavet ingefærsirup:
1 mål ingefær, vasket/skrubbet og skåret i tern (ca. 1,5 x 1,5 cm)
1 mål sukker
2 mål kogende vand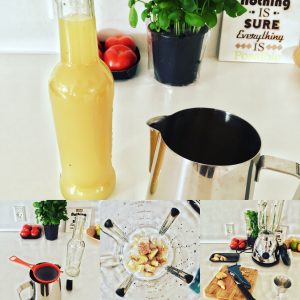 Man kan lave så meget man vil, jeg brugte det stykke ingefær, jeg havde købt, hvilket endte med ca. 1,5 dl. i udskåret tilstand. Vask ingefæren grundigt og skær den i stykker – det er ikke nødvendigt at skrælle den først. Blend ingefær, sukker og kogende vand grundigt i en blender. Si blandingen, og smid de frasiede trevler mm. ud (jeg gjorde dette i to omgange, for at få så klar en sirup som muligt). Hæld siruppen på en rengjort og desinficeret flaske og opbevar i køleskab.
Det er vigtigt ikke at koge ingefæren i længere tid, men netop blot overhælde med kogende vand – det er denne metode, der sikrer, at smagen holder sig frisk længere tid end ellers. Siruppen kan i øvrigt holde sig minimum et par uger på køl, og kan også bruges i te, kager, desserter og hvad man ellers har lyst til at tilsætte ingefær til.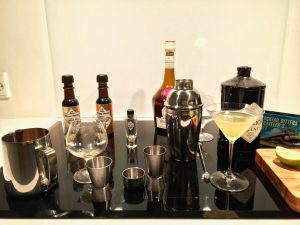 Men en cocktailnørd laver jo selvfølgelig først og fremmest cocktails, så nu stod jeg overfor den sande udfordring: At lave en god drink baseret på ingefærsiruppen. Det åbenlyse valg ville have været rom som base, sirup og lime, som en slags Dark 'n' Stormy, men det var næsten også FOR åbenlyst. Jeg ville lave noget andet og min første indskydelse, da jeg åbnede barskabet var derfor at tage fat i en flaske Bénédictine. Hvorfor? Tjahh, jeg havde haft den fremme for at lave en April Shower i sidste uge og tænkte, at dens krydrede og jordbundne smag ville passe godt til ingefærens friskhed og skarphed. Og som basisspiritus? Det næste mit blik faldt på var en Hendrick's gin, som netop kunne gå i spænd med både Bénédictine'n og med ingefæren. Første blanding blev lavet, med en lovende smag, men der manglede ligesom noget. Tilbage til barskabet, denne gang for at kigge efter bitters. Efter endnu et par forsøg var den der: Selleribitter var lige det, der manglede for at give endnu mere dybde og runde smagen af. Så var den der, synes jeg i hvert fald, men døm selv :-):
(en note om navnet: Det er en videnskab i sig selv at finde på et godt – og ubrugt – navn til en ny cocktail. Jeg gik med mine første indskydelser og valgte derfor dette…)
Opskrift, First Impulse Cocktail:
4 cl. Hendrick's gin
1 cl. Bénédictine
1 cl. ingefærsirup
2 skvæt selleribitter
Shakes og serveres straight up i et cocktailglas.
Comments
comments