Her i juledagene, hvor alting går op i sukker, fedt og stressende ædegilder, er det godt at have noget at stå imod med. F.eks. en cocktail, der lader en synke hen i sofaen, mens ungerne hyler over de julegaver, de ikke fik, og de uvaskede tallerkener får lov at blive stående til en anden gang. Derfor, mine damer og herrer, skal dette års juletema være cocktails med scotch. Så hiv whisky-flasken frem af skabet (eller giv dig selv en i julegave) og følg med over de næstkommende dage.
Scotch har alle dage været en svær spiritus at arbejde med i cocktail-sammenhæng. Tung og røget, stærk og – synes mange – helt utilgængelig. Det er som den gnavne gamle onkel, der sidder i hjørnet og fortæller om, hvordan alting var bedre i gamle dage og knurrer over ungdommens letsindighed. Men nogle af disse gnavne gamle onkler er faktisk til at tale med, hvis man blot sætter sig ned og hører på dem. Og måske får man endda et nyt perspektiv på det hele, hvis man barer lytter ordentligt efter. Sådan er det også med scotch i cocktails.
(En enkelt note dog: Det er absolut anbefalelsesværdigt at anvende en blended scotch i stedet for en single malt. Single malts har det i endnu højere grad med at overtage en drink fuldstændig, så her skal man være meget garvet for at kunne føre en samtale med den gnavne onkel…)
Første drink jeg vil kaste mig ud i, er den simpleste af de simple: En klassisk drink, der får det bedste ud af scotch ved at blande den med – ta da – en scotch-baseret likør, nemlig Drambuie. En Rusty Nail.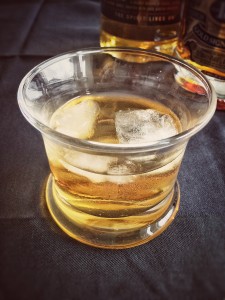 Rusty Nail har haft mange navne gennem tiden, og optræder første gang officielt i cocktailhistorien som en 'B.I.F.' cocktail i 1937, navngivet efter British  Industries Fair samme år og opfundet af en F. Benniman (medlem af bestyrelsen for UK Bartenders' Guild under formandskab af den navnkundige Harry Craddock…). Bennimans version havde en 3-1 ratio af scotch til Drambuie og inkluderede bitters.
Senere versioner droppede bitteren, skar ned på scotch'en og havde navne som D&S, Mig-21, Little Club No. 1 og Knucklehead før den endeligt blev døbt Rusty Nail engang i 1950'erne. Og da Drambuie selv officielt godkendte navnet i 1963, var sagen ligesom afgjort.
Selv er jeg mest med på den vogn, der siger omtrent 3-1 i stedet for 2-1 eller endda lige dele scotch og Drambuie. Men det smukke ved en Rusty Nail er, at man med god samvittighed kan prøve sig frem til netop den balance, man selv foretrækker. Og tilsætte en dråbe bitter hvis man, med et let nik til F. Benniman og UK Bartenders' Guild, vil go all-in på den klassiske version. Begge opskrifter følger her:
Opskrift, Rusty Nail:
5 cl. blended scotch
2 cl. Drambuie
Omrøres eller serveres on the rocks i et lowball eller lille tumblerglas. Lav blandingsforholdet om så meget du lyster…
Opskrift, B.I.F. cocktail:
4,5 cl. blended scotch
1,5 cl. Drambuie
1 dask Angostura bitter
Omrøres og serveres straight up i et cocktailglas.
Comments
comments