Så er det for alvor blevet efterår og her midt i november-mørket (og med endnu mørkere dage i sigte) er det tid til at finde og værdsætte de få lyspunkter, der trods alt er. Hvilket jo f.eks. kunne være en god cocktail. Så mens regnen pisker mod vinduerne er det tid til at tænde stearinlysene, trække tæppet godt op omkring sig, hælde den varme kakao i vasken og i stedet lave sig en solid Old Fashioned.
Old Fashioned er en af de cocktails, som for alvor er blevet kendt de senere år, godt hjulpet på vej af Mad Men-serien, hvor Don Draper m.fl. indtager et imponerende (eller vanvittigt, alt efter synspunktet) antal cocktails.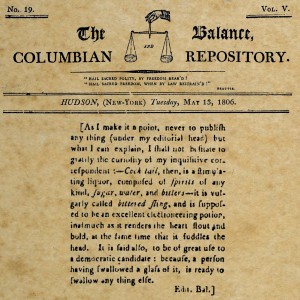 I virkeligheden er en Old Fashioned jo den "oprindelige" cocktail – helt tilbage fra den første definition ("spirits of any kind, sugar, water, and bitters") fra starten af 1806. Som cocktailscenen udviklede sig gennem 1800- og 1900-tallet og en cocktail kom til at indeholde flere forskellige ting og efterhånden blot betød en mikset drink med alkohol, blev "Old Fashioned" betegnelsen for en cocktail lavet på god gammeldaws manér.
Det betyder, at en rigtig Old Fashioned på ingen måde er en kompliceret cocktail at lave – udfordringen ligger i stedet i at få det enkle til at gå op i en højere enhed.  Det indebærer flere ting:
Husk ingredienserne – alle sammen. En Old Fashioned er en Old Fashioned, og den følger definitionen ovenfor. Intet mere, intet mindre.
Der skal vand i ja, men den skal ikke druknes. Vandet kan komme fra isvand, der simpelthen tilsættes drinken eller fra isterninger, som langsomt smelter. Det er en stærk drink og den skal smage af spiritus.
Pynt er et omdiskuteret emne. Oprindeligt var det uden, men mange laver den nu om dage med et stykke appelsinskal eller et kirsebær. En ting er dog sikker: Glem den overlæssede frugtskål.
Du kan – i princippet – bruge en hvilken som helst spiritus som base. Rye eller bourbon er klart mest almindeligt nu om dage, men man kan, med historiens vægt bag sig, bruge f.eks. cognac eller rom.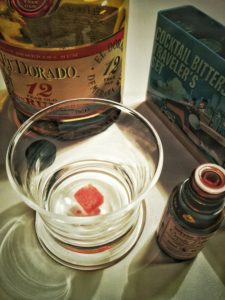 Sidste punkt er alt for overset efter min mening, især hvis man vil lege lidt med forskellige sammensætninger basis-spiritus og bitters. Prøv f.eks. kombinationer af cognac og fersken-bitter, rom og kirsebær-bitter eller endog mezcal og selleri-bitter (ok, der blev det nørdet, men hey, det er jo sådan det er her på siden :-)). Min egen seneste  Old Fashioned var med rom og Bitter Truth Creole Bitters og den smagte fantastisk. Så prøv dig frem og se hvad der passer til lige præcis dine smagsløg.
Opskrift, Old Fashioned:
6 cl. af din favorit-spiritus
1 tsk. sukker eller 1 sukkerknald
2-3 dask bitter
Opløs sukkeret så meget som muligt med bitteren i et Old Fashioned glas eller lille tumbler. Tilsæt isterninger og spiritus og rør godt rundt. Pynt evt. med et tyndt stykke appelsinskal hvis du endelig vil.
Comments
comments