Sommeren er ved at gå på hæld – i hvert fald er Cocktailnørdens sommerferie for længst forbi. Og hvad gør man, når man har post-sommerferie-blues? Man laver en rigtig sommerdrink, gør man!
Sommeren 2009 var, i hvert fald ifølge internettets hukommelse, både varm, våd og solrig. En af de gode af slagsen altså (to ud af tre er mere end godkendt for en dansk sommer).
Og så var det sommeren, hvor alle drinks pludselig skulle være med agurk. Hardeep Rehal fra 1105 havde vundet DM i cocktail med den nyskabende Cucumber Yum Yum, der med både akvavit og agurk virkelig var forud for sin tid. Og med en københavnsk cocktailscene på vej frem skulle drinks gerne være mere sofistikerede end de havde været før.
Samtidig var gin for alvor på vej frem. Fra at have været noget, som mange rynkede på næsen af og affærdigede med et "jeg kan ikke lide at drikke gran" (nej, hvem kan da også det?), var gin så småt ved at blive hipt. Det var startet med Hendrick's, der op gennem 00'erne redefinerede hvad gin kunne være med brugen af nye ingredienser som, ja, rigtigt gættet: agurk.
Nu kan man nærmest ikke gå ud af sit lokale supermarked uden at have fået en ny slags gin med hjem, men dengang var det altså sådan for alvor nyskabende. Nå, men tilbage på agurkesporet: Vejret, tidsånden og ingredienserne var altså tilstede og manifesterede sig tilsammen i at Cucumber Collins blev en nyklassiker.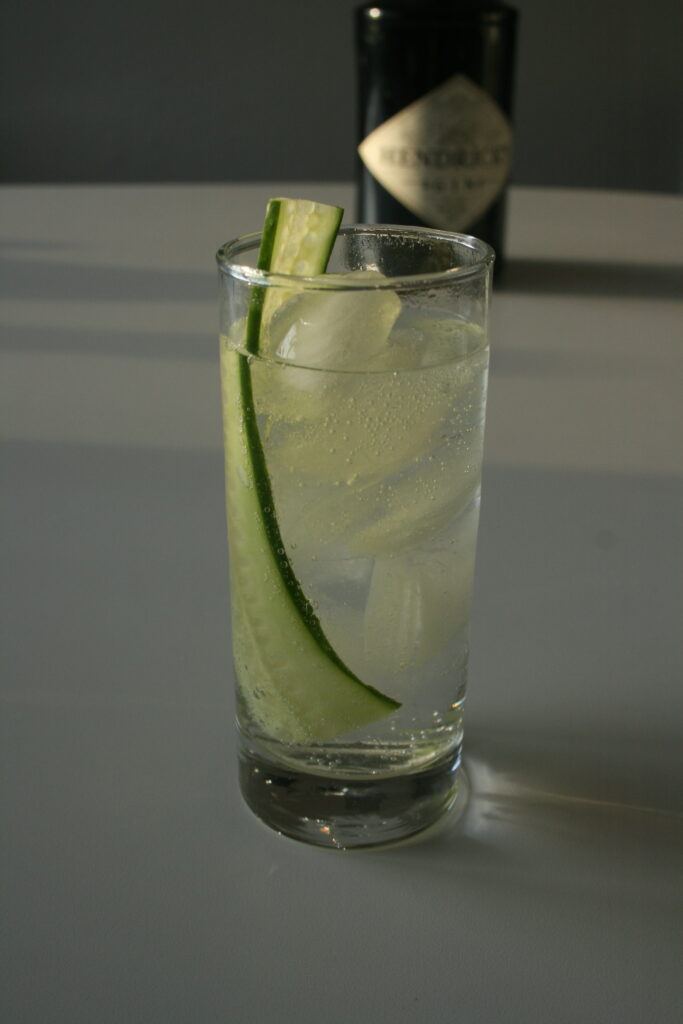 Og med god ret: Basalt set er det jo en Tom Collins med et twist af agurk (og helst, men ikke nødvendigvis, med Hendrick's gin som base), og som sådan en gedigen og velafprøvet tørstslukker på en varm sommerdag. Men agurken giver lige det der ekstra, som selv en god Tom Collins nogle gange kan mangle. Less er ikke altid more, nogle gange skal der lige lidt flere smagsnuancer til. Så smid lidt agurk i shakeren næste gang du skal have en sommerdrink – du vil ikke fortryde det!
Opskrift, Cucumber Collins:
6 cl. gin
4 cl. citronsaft
2 cl. sukkerlage
3-4 cm agurk skåret i mindre stykker
Danskvand
Stød først agurkestykkerne i bunden af shakeren. Fyld op med gin, citronsaft og sukkerlage, shake med is og si det op i et collinsglas med isterninger i. Fyld op med danskvand og pynt med en skive agurk.
Comments
comments