I cocktailnørders verden er perioden fra slut-1960'erne til omkring årtusindeskiftet en mørk periode. Fyldt med lys ja, men det hårde, kolde neonlys der skinnede på billige sirupper, bling-bling vodka og drinks, der alle hed noget med martini, men så absolut ikke var det. Men så skete der noget: en lille gruppe bartendere og cocktailentusiaster tog (bar-)skeen i den anden hånd og fik, drink for drink, sat gode råvarer og ordentlig mixing på dagsordenen.
En af de første, der for alvor brød igennem i en bredere offentlighed var Audrey Saunders, der åbnede sin bar Pegu Club i New York i 2005.
(og her indskyder jeg lige to hurtige bemærkninger: 1) Nej, der er intet, der afholder en kvinde fra at blive en fantastisk bartender og mixolog. Intet. Og 2) navnet Pegu Club er i sig selv en hommage til den navnkundige bar af samme navn i Rangoon. Læs mere her).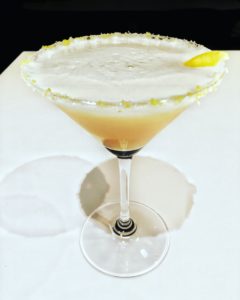 Nå, men en af de første cocktails på menue i 'den nye' Pegu Club var en gin-baseret sour. Lyder ikke særligt specielt vel? Det var det nu alligevel – af flere årsager: For det første var gin slet ikke all the rage dengang, som det er nu, hvor mikro-destillerier skyder op på ethvert gadehjørne. For det andet var gin'en infuseret med te for at tilføje nye smagsnoter og understøtte gin'ens egne. For det tredje blev der brugt frisk æggehvide, noget som vel ikke var set siden cocktail-storhedstiden næsten 100 år forinden.
Kombinationen af gamle dyder og innovative ideer var et hit og en moderne klassiker var født – og kan i øvrigt stadig fås på Pegu Club, hvis du en dag er i New York. Men det er nu også besværet værd at lave den hjemme!
Opskrift, Earl Grey MarTEAni:
4,5 cl. earl grey-infuseret gin (se nedenfor)
2,25 cl. citronsaft
3 cl. sukkerlage
1 æggehvide
Shakes og serveres straight up i et cocktailglas* med et citrontwist.
*: Hvis det skal være helt rigtigt (og det skal det jo), så gnid toppen af glasset med en blanding af sukker og fintrevet citronskal på forhånd. Fintreven skal af 1 citron blandes med sukker, hvorefter glassets kant 'dyppes' heri.
Earl grey-infuseret gin:
1 flaske gin med høj alkoholprocent, f.eks. Tanqueray (som i den originale version).
4 spsk. løs earl grey-te
Bland gin og te i en lukket beholder og lad stå i et par timer. Si teen fra (pres den ikke, det vil blot trække bitterstoffer ud!) og hæld gin'en tilbage i flasken. Kan holde sig stort set uendeligt, hvis det opbevares mørkt og køligt.
Comments
comments