Jeg har nævnt New Orleans' betydning for den klassiske cocktailscene før (se Grasshopper), og byen kan da også bryste sig af at have frembragt måske den allermest overdådige og luksuriøse kreation indenfor cocktails og drinks: Ramos Gin Fizz. Opfundet af New Orleans-barejer Henry C. Ramos i slutningen af 1880´erne og på et tidspunkt så populær, at han måtte hyre et helt korps af 'shaker-boys', hvis eneste job var at shake gin fizzes, når der var gang i baren (for den skal shakes skal den, mere om det om lidt).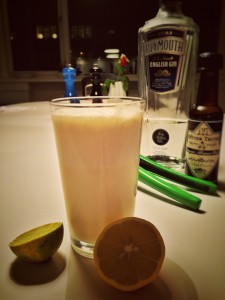 Ramos Gin Fizz er ikke 'bare' en gin fizz (dvs. en highball/longdrink med danskvand), peppet lidt lidt op. Nej, det er en drink, der transcenderer fizz-kategorien og sætter sine egne standarder. Fløde og æggehvide smyger sig silkeblødt rundt om gin-basen, sekunderet af både citron- og limejuice og løftet op af en anelse perlende danskvand. Og så, for at det ikke skal være løgn, et par dråber duftende orangeblomstvand til at runde hele oplevelsen af med.
Ok, det blev vist lidt højtravende, men pointen er, at jeg blev solgt, i første omgang da jeg hørte om denne drink og i anden omgang, da jeg smagte den. Men det er ikke en drink, man bare lige laver: For det første er der en hel del ingredienser i (og det er jo trods alt ikke altid man både har lime, citroner, fløde og ikke mindst orangeblomstvand indenfor hjemmets fire vægge…).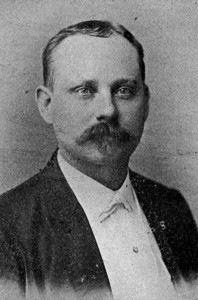 Og for det andet er det mildest talt en fysisk udfordrende drink at lave. For hemmeligheden bag en Ramos Gin Fizz er, at den skal shakes til armene er ved at falde af. Den skal shakes til man simpelthen kan mærke, at indholdet i shakeren ændrer konsistens og bliver til en sammenhængende glat masse (lidt som at piske flødeskum med en shaker tænker jeg…). Og da det gerne tager flere minutter, kræver det altså stærke overarme. Et tip er i den forbindelse at starte med at 'tør-shake', dvs. uden is, så man ikke udvander drinken for meget.
Et par noter om ingredienser:
Ja, der er æggehvide i, og nej, jeg er ikke bange for salmonella. Køb dem pasteuriserede, hvis du vil være 100 % sikker, eller køb dem rå og økologiske og vær ligeglad med den minimale risiko (og indskyd evt. et lommefilosofisk citat om altings usikkerhed i denne verden…)…
Og ja, orangeblomstvand er ikke sådan lige at finde, men prøv i velassorterede butikker med mellemøstlige varer – der kan man som regel finde det. Selv har jeg fundet en tysk udgave fra firmaet The Bitter Truth, som i øvrigt også laver nogle fantastiske bitters – dem vender jeg tilbage til i en senere post.
Opskrift, Ramos Gin Fizz:
6 cl. gin
3 cl. fløde
1,5 cl. limesaft
1,5 cl. citronsaft
1,5 cl. sukkerlage
1 æggehvide (eller ca. 3 cl. hvis man bruger pasteruriseret)
2-3 dråber orangeblomstvand
Danskvand
Shakes (meget!) kraftigt og serveres straight up i highball-glas, toppet med danskvand (prøv evt. at lægge danskvandet i bunden af highball-glasset først, det giver en bedre struktur og en flottere top på den færdige drink).
Comments
comments