Njah, det gør de nok ikke lige nu i hvert fald, men de har i hvert fald lagt både navn og nationalspiritus til en af de allermest udbredte søde drinks: White Russian (og dens lidt ældre, men knap så elskede, bror Black Russian). Men at en drink er kendt, skal naturligvis ikke afholde Cocktailnørden fra at gå dybere ind i dens historie…
Først ingredienserne: Det er meget simpelt, da der udover vodka ku skal bruges kaffelikør (Kahlua) samt for den hvide udgaves vedkommende mælk eller fløde. Et glas og et par isterninger og man er kørende – måske en af grundene til den store succes, især White Russian har fået. Smagen er stærk, sød og cremet, hvilket gør den til en perfekt after-dinner drink. Og så kunne historien ellers slutte her med den obligatoriske opskrift og alle ville være glade og vente på en undskyldning for at hive flaskerne frem og gå i gang.
Men, men men, sådan tænker en sand cocktailnørd ikke: Historien skal også med. Så here goes: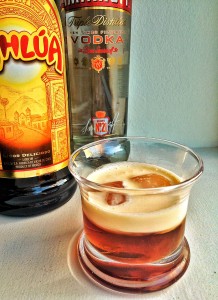 Det første eksempel på en drink med navnet Russian, som jeg har kunnet finde, optræder i Washburnes & Bronners Beverages De Luxe fra 1914. Her er vodka hovedingrediensen, og der er derudover kun tilsat Ruhinoy, en russisk kirsebær-likør, som nu er forsvundet. Denne drink angives at være "nyligt introduceret… og værdsat af kendere". Hmm, måske den skulle prøves også?
Nå, flash-forward til 1930, hvor The Savoy Cocktail Book udkommer. Vi er nu midt i Forbudstiden, hvor mange amerikanere (og amerikanske bartendere) er i Europa og har taget drikkevaner og opskrifter med. Den amerikanske bar på Savoy Hotel i London er et af centrene for cocktail-kulturen og dens mangeårige chefbartender, Harry Craddock, udgiver sit hovedværk The Savoy Cocktail Book med hundredevis af opskrifter på cocktails og andre drinks. Kun fire af disse drinks er med vodka, men i en af dem genfinder vi noget, der ligner en tidlig forløber for en White Russian: En Barbara Cocktail, bestående af vodka, créme de cacao og fløde. I virkeligheden en variation over den klassiske Alexander – og der er jo ikke langt til at udskifte kakao-likøren med kaffe-likør… Der er også en decideret Russian Cocktail i Craddocks bog, men den ser blot mærkelig ud: Lige dele gin, vodka og créme de cacao. Hmmm.

Herefter forsvinder Russian lidt ud af syne, men efter 2. Verdenskrig går det for alvor hurtigt, og i 149 laver bartender Gustave Tops på Hotel Metropole i Bruxelles den første Black Russian, efter sigende som en hyldest til den daværende amerikanske ambassadør i Luxembourg, Perle Mesta. Der går endnu en snes år før nogen finder på at tilsætte fløde, men i 1965 ses opskriften på White Russian side om side med Black Russian i et reklame-indstik i en amerikansk avis. Samme år i øvrigt som den første rumvandring af en (russisk) kosmonaut finder sted; der var noget med de russere i løbet af 60'erne.
Jeg har tilladt mig at justere den oprindelige opskrift en smule, så drinken ikke bliver alt for sød, men det er naturligvis tilladt at justere tilbage. Og det er også tilladt at anvende (sød-)mælk, hvis man er til den slags 🙂
Opskrift, Black Russian:
4 cl. vodka
2 cl. Kahlua
Omrøres og serveres on the rocks i et old fashioned eller et whiskeyglas.
Opskrift, White Russian:
4 cl. vodka
2 cl. Kahlua
3 cl. piskefløde
Vodka og Kahlua omrøres, før piskefløden forsigtigt hældes i glasset over bagsiden af en teske, så den flyder ovenpå. Serveres on the rocks i et old fashioned glas eller et whiskeyglas.
Mht. vodkaen: Smirnoff ville her være det naturlige valg, selvom andre kvalitetsvodkaer sagtens kan gøre det. Men helt klart en russisk en af slagsen!
Comments
comments