I sidste post var jeg forbi Pink Gin og engelske søfolks evne til at fremtrylle lækre drinks ud af få ingredienser. I den forbindelse gik det op for mig, at jeg endnu ikke har skrevet om Gimlet – så det bliver der rådet bod på nu.
Endnu en gang er det den britiske flåde, Royal Navy, der skal have æren for dette bidrag til cocktailscenen. En af de mest udbredte sygdomme blandt søfolk dengang var skørbug, som fik tænderne til at falde ud og i værste tilfælde medførte døden. Skørbug skyldes mangel på C-vitamin, som den almindelige sømandskost (beskøjter og tørret kød…) ikke ligefrem var proppet med. Løsningen var derfor at tage citrusjuice med ombord, konserveret med et godt skud rom eller f.eks. gin. Så Gimlet er i samme kategori som Gin & Tonic, Pink Gin og Pegu Club Cocktail – drinks designet til at forebygge sygdomme på sørejser og i det britiske imperiums kolonier.
Navnet stammer da muligvis også fra den britiske kontraadmiral og læge Sir Thomas Gimlette, som netop skulle have brugt den som middel mod skørbug. Eller også stammer det fra et stykke værktøj (en gimlet), som blev brugt til at bore små huller i f.eks. træ, og metaforisk som noget der var småt og gennemborende ligesom drinken. Hvem ved, sådan er det jo med cocktailhistorien…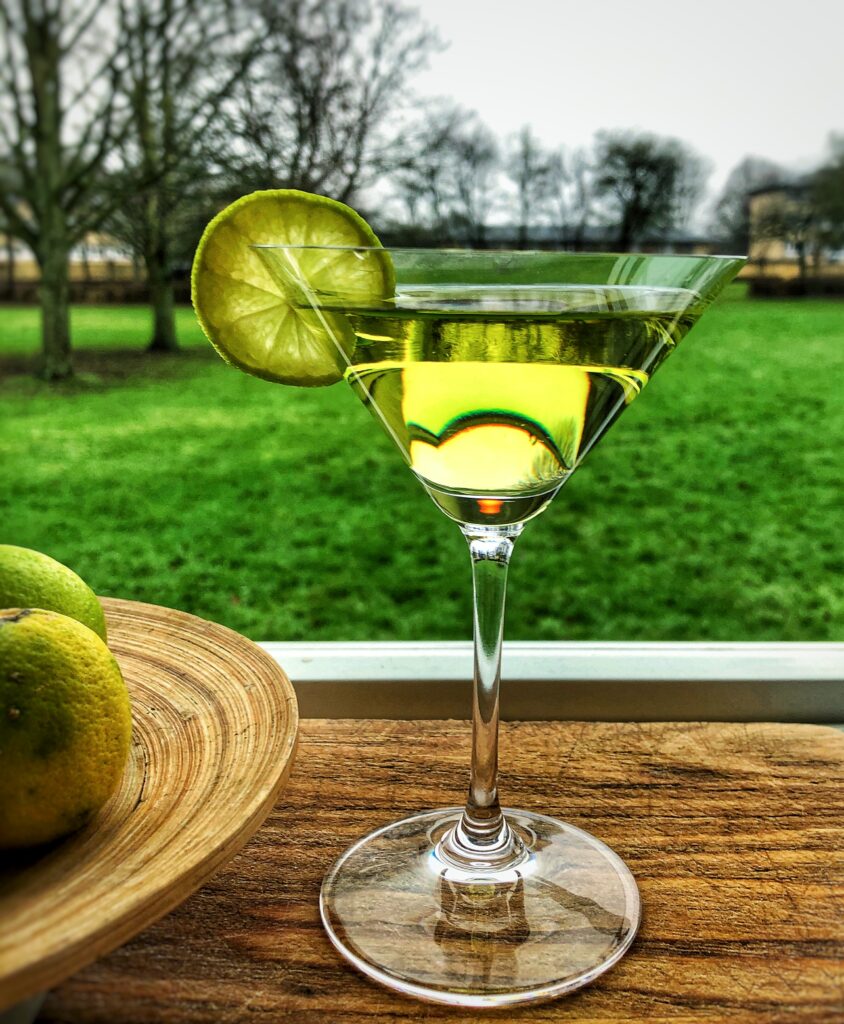 Gimlets historie hænger uløseligt sammen med den nu noget forkætrede Rose's Lime Cordial – en blanding af limesaft og sukker med en kunstig-grøn farve og en også lidt kunstig smag. Ikke noget en cocktailnørd normalt ville anbefale… Men siden skotten Lauchlan Rose fandt på at konservere juicen med sukker i stedet for alkohol og patenterede verdens første industrielle frugtjuice-koncentrat i 1867, var Rose's et fast indslag på flådens skibe og dermed drikkevanerne ombord. Hvis man vil have en lidt mere naturlig version, er det dog en god ide at lave den med limesaft og sukkersirup, selvom det giver en uklar drink. En rigtig nørde-løsning er at lave sin egen limesirup (vand, sukker, limesaft og evt. -skal varmes til sukkeret er opløst og sies så. Eksperimentér endelig :-)).
Traditionelt skal det også være Plymouth gin – den britiske flådes foretrukne – som skal i glasset, men andre gins fungerer også fremragende. Brug gerne en gin med citrusnoter, hvis du vil fremhæve det syrlige element. Uanset hvad er Gimlet stadig en forfriskende klassiker – syrlig og skarp og lige noget for enhver gin-elsker!
Opskrift, Gimlet:
6 cl. gin
3,5 cl. limesirup ELLER 1,5 cl. limesaft og 2 cl. sukkersirup
Shakes og serveres straight up i et cocktailglas.
Comments
comments