Når man – som jeg – er både cocktailentusiast og bosat i 'Provinsen' (et ord folk fra København bruger om alle andre steder i Danmark), kan det nogle gange være så som så med mulighederne for at få en god drink. Bevares, onlinehandel og udlandsbesøg gør det muligt at bestille the good stuff til hjemmebaren – men det er straks sværere at opdrive en god cocktailbar. Heldigvis er min nuværende hjemby (Odense) ved at komme op i gear på dén front også.
Et af de steder i Odense, som satser på kvalitetscocktails er MASH, hvorfra bartender Rasmus Christiansen netop er blevet nr. 3 i konkurrencen The World's Most Passionate Bartender Competition arrangeret af Licor 43 (for ikke-kendere: en sødlig-krydret spansk likør med 43 ingredienser, som udtales cuarenta-y-tres…). Moderne produktion af Licor 43 startede først i 1946, og den indgår derfor ikke i nogle af de helt klassiske cocktails, men den er så absolut værd at eksperimentere med: De krydrede vanille- og citrus-noter gør den til en god substitut for f.eks. orangelikør i variationer over Sidecar, Daiquiri og lignende.
Nå, ovenpå den flotte bronzemedalje fik jeg lejlighed til at stille Rasmus et par spørgsmål om hans syn på at være bartender i Odense og eventuelle gode råd til hjemme-bartenderen (samt hans opskrift på konkurrence-cocktailen, den står nederst):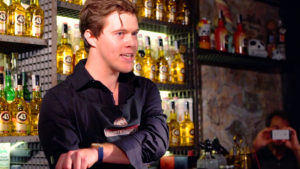 Cocktailnørden: Hvordan oplever du cocktailscenen i Odense?
Rasmus Christensen: Jeg synes generelt, der mangler steder at få gode cocktails i Odense. Der er mange gode vin- og ølbarer, men cocktailscenen hænger lidt. Vi forsøger på MASH at have stor fokus på vores cocktails, men der er stadigt mange, der er lidt nervøse for at gå ind på en restaurant for "bare" at drikke cocktails. Jeg synes dog, vi ser en voksende interesse for cocktails i Odense – i hvert fald hos vores gæster på MASH. Så jeg tror og håber på, at de næste par år står i cocktailens tegn!
CN: Hvad er dine bedste råd til hjemmebartenderen?
RC: Brug gerne penge på 'modifiers', dvs. forskellige gode likører og bitters. I forhold til klassiske cocktails kommer man langt med en god Triple Sec, Campari og sød vermouth. Og selvom du sagtens kan bruge en protein-shaker-flaske til at ryste cocktails i, så er en af mine store glæder at have noget godt udstyr! En god shaker kan godt koste lidt penge, men kan til gengæld følge dig stort set hele livet, så i mine øjne er det klart pengene værd at investere i noget godt udstyr.
CN: Hvordan bliver man selv bedre til at improvisere, når man skal lave cocktails?
RC: Det er en kæmpe fordel at kunne forskellige klassiske cocktails, når man skal til at improvisere. Ligesom med bagning og madlavning er det klart lettere at improvisere en opskrift, hvis du allerede kender andre opskrifter, samt nogle af teknikkerne og metoderne. Personligt finder jeg meget inspiration i madlavning og især desserter. Hvis jeg er ude at spise og jeg får en lækker dessert, så tænker jeg hvordan jeg kan inkorporere de forskellige smage i en cocktail. På den måde opbygger man en form for "opslagsværk" med gode kombinationer af smage.
Det sværeste ved at improvisere cocktails er nok at finde den rette balance mellem spiritus, syre og sødme. En god tommelfingerregel er, at forholdet skal være 3 dele spiritus, 1,5 del syre og 1 del sødme – f.eks. 6 cl rom, 3 cl lime og 2 cl sukkersirup.  Herefter kan du bytte de forskellige ingredienser ud med andre ingredienser. Du kan bruge en sirup med smag, du kan bruge citron istedet for lime, og du kan bruge whiskey istedet for rom. Du kan også tilføre flere ingredienser. Og så skal man bare prøve sig frem indtil man rammer den rigtige smag.
Hvis man virkelig har en interesse for cocktails og for at kunne improvisere, er der ingen vej uden om at nørde de klassiske cocktails. Det er måske lidt kedeligt, men man skal kravle, før man kan gå. Langt de fleste professionelle bartendere har arbejdet med cocktails i flere år, og det er stadig en kæmpe udfordring for dem at improvisere nye cocktails!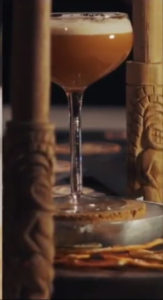 Opskrift, Daiquiri #43 (vinder af 3.plads ved The World's Most Passionate Bartender Competition 2017):
3 cl Licor 43
3 cl Diplomatico Mantuano
2 cl koldbrygget kaffe
2 cl friskpresset lime
2,5 cl friskpresset ping grape
1 barske mixed peberkorn.
Peber muddles i shaker, resten af ingredienserne tilføjes og det hele shakes hårdt med is. Finestraines over i et nedkølet coupe-glas og serveres med varm kaffe, der hældes over tør-is.
Comments
comments